By Jason Baker, Principal at Baker Katz
It is hardly a new or novel observation to say that COVID was massively disruptive to most retailers. Pandemic pressures and rapidly changing consumer priorities were devastating for some retailers and a significant boost for others. In the F&B space, the disparity between the haves and the have nots was as wide as anywhere, with some restaurants pivoting seamlessly to delivery and pickup options, and others struggling to adjust and even going out of business.
The story isn't nearly so black and white. There are fascinating shades of gray required to appreciate the impact of third-party delivery platforms on previously traditional delivery F&B operators. Also, to recognize the challenges and opportunities that third-party delivery platforms present for brands and businesses. Understanding how F&B delivery service has evolved, how it continues to evolve, and what factors are likely to continue to separate food delivery winners and losers, is critical to understanding what the entire industry will look like in the years ahead.
Evolution—and Concessions
Pre-pandemic, there were a handful of F&B providers dominating the delivery landscape, including familiar names like Domino's pizza and Jimmy John's sandwiches. Today, however, with the rise of online ordering and third-party delivery services like DoorDash, Uber Eats and Grubhub, virtually all restaurants have been forced to adapt to keep up with the competition, despite the high margins on their balance sheet to do so.
That shift didn't happen overnight, although it might have felt like it. Quite a few brands were philosophically against third-party delivery platforms. Some were experimenting with handling delivery in-house and building their own delivery platforms and fleets, and some were resistant because of the generally unfavorable cost breakdown. While third party delivery remains almost universally unprofitable for retailers, it's increasingly non-negotiable. Most initial holdouts have recognized that reality—if only grudgingly. Today we are seeing how the pandemic-fueled acceleration in third-party delivery has increased consumer comfort with delivery services, increasing top-line revenue, and supercharged adoption.
Running the Numbers
Given the fact that F&B is typically not a high-margin business, it's not surprising that third-party delivery fees are a bitter pill to swallow. So why are virtually all restaurants in every industry sector participating? Even if they are losing money on each transaction, they literally can't afford not to. Declining to be a part of the third-party delivery ecosystems risks losing market share and brand recognition—outcomes that could have dire long-term financial consequences. Margins are being squeezed even tighter as price increases in food and fuel and rising labor costs further complicate the picture.
While F&B brands and businesses are currently treating third-party delivery as a kind of long-term loss leader, there are some reasons for optimism in pricing. Customers seem to be getting more comfortable with higher delivery prices, especially as restaurants and third-party delivery brands are getting smarter at baking those higher prices into listed delivery menu prices. While it remains somewhat unclear how much profit is available on this front, delivery brands continue to clamor for market share and competition is fierce.
Operational Innovation
One of the certainties in an uncertain market space is that restaurants will continue to find ways to streamline and facilitate pickup and delivery with everything from new operational efficiencies to layout and design changes. As customer pickup and third-party delivery continue to become more popular, restaurants need to be accommodating. Brands like Chick-fil-A, for example, continue to lead the way with operational innovation and creative use of space. From mobile menus and digital pickup windows to reductions in space allocated to on-site dining and an increased prevalence of drive-thru-only restaurant designs, the dining landscape is both literally and figuratively changing in response to emerging pickup and delivery trends.
Moving Forward
As third-party delivery continues to become more entrenched as an influential F&B force, we will likely see the significant disparities that already exist between delivery winners and losers become even more apparent. Brands that previously specialized in delivery will continue feeling more pressure from the extra competition, but perhaps the most noticeable impact will be the yawning chasm between full-service restaurants and fast-casual concepts. Fast casual is well-suited for adapting to third-party delivery, while full-service restaurants will struggle to overcome inherent structural challenges. There will also be wildcard factors that delineate winners and losers on third-party delivery apps. For example, something as fundamental as how well your food travels can play a big role on a restaurant's delivery success. Evolving consumer behaviors and preferences will of course continue to be the ultimate arbiter. We are already seeing signs that a customer's decision about whether to order in or venture out to personally pick up their meal has more of a financial decision now than a health or convenience-based calculation.
In many ways, the evolution of food delivery and the financial, cultural, operational, and culinary forces that shape it mirrors the broader pandemic evolution we all went through. Which means that, to a certain extent, restaurants and third-party delivery brands are all still figuring it out. When we've seen how industry realities can shift so quickly, it's clear that the new normal is a moving target and F&B operators who can best evolve and adapt to changing times will be those who flourish in the months and years ahead.
About the author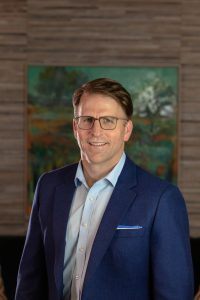 Jason Baker is a principal with Houston-based Baker Katz, a full-service commercial real estate brokerage firm specializing in retail tenant representation, development and management. To reach Jason directly, email jbaker@bakerkatz.com.